El mejor interprete de «The Rumbling»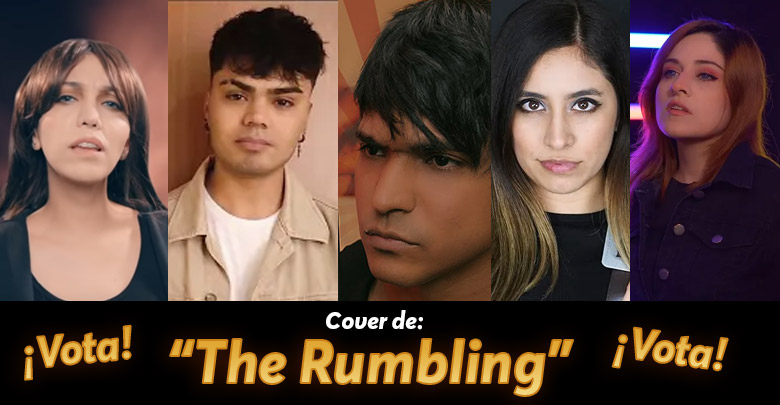 El opening de Attack on Titan The Final Season Part 2 es increíble y además de la versión original, existen diversos Covers al español que son maravillosos, y tenemos a 5 interpretes excepcionales. Vota por tu favorito.
Omar Cabán – Yuri Fox
De origen puertorriqueño es un gran intérprete de canciones (J-Pop/K-Pop) en 2017 recordamos su participación en Animekonsato dejando un gran recuerdo a todos sus seguidores, su carisma y manera de interpretar lo han destacado en muchas partes del mundo y en especial en América Latina. Puedes seguirlo en su canal de Youtube aquí.
---
Danie Green
Danie Green es un grupo conformado por Caleb Geller y Danie Green originarios de México. Jóvenes con gran aportación, dinamismo, entusiasmo y alegría que se ven reflejados en sus videos. Puedes seguirlos en su canal de Youtube aquí.
---
Dianilis
Diana Lissete interprete mexicana de covers, fan del anime y los videojuegos. Puedes seguir su canal aquí.
---
The Covers Duo
The covers Duo es una agrupación Ecuatoriana que inicio en el 2012 a realizar covers de distintos animes. Pamela Romvel & David Galardi han hecho muchos covers espectaculares, los recordamos en su participación en 2017 en Animekonsato México, Puedes seguir su canal aquí.
---
Alanencio
Alan Rojas, desde chile es un cantante de covers de anime, entusiasta y carismático. Sigue su canal aquí.
---
Llegamos al momento definitivo en el que das tu voto a tu interprete favorito.